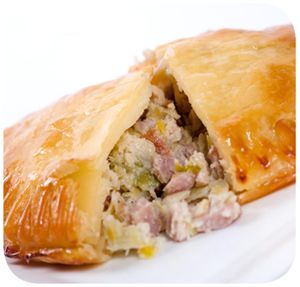 Being Coeliac one of the main foods that I found most difficult to give up was Pie, especially chicken & mushroom or chicken and ham pie's!! There are of course many gluten free substitutes for pastry, bread, pasta etc however finding a decent 'normal' tasting pastry, as the texture is always extremely crumbly, make's it difficult to enjoy any homemade pies as they aren't quite the same as a glutenous pie.
When I first moved to London 3 years ago I didn't cook at all, I wasn't overlly creative in the kitchen and always took the easier option of eating out. At this point I discovered this online bakery, 'The Gluten Free Bakers' that delivered! They have loads to offer including breads, savouries, pancakes, pizza base, confectionary & seasonal specials. I have tried the mini quiche which are really lovely, the sausage rolls which were average and the pies which I love!! They have a great selection of fillings and as I order in bulk I can keep them in the freezer and when I'm in the mood for a gluten free pie I heat them thoroughly in the oven for about 25 mins or until piping hot.
Lifestyle Healthcare Ltd. The Gluten Free Bakers
Sweet Treats Store Cupboard Ultra Gluten Free Confectionery
The Gluten Free Bakers deliver all over the UK as well as Northern Ireland, however you must order a minimum of 6 items and a minimum of 12 items if ordering from Northern Ireland. All the food is freshly baked and can be eaten within 3/4 days however when buying in bulk just put them into the freezer and they always come in handy when you're not sure what to cook or you fancy a pastry treat!
I was diagnosed with Coeliac when I was 18 and since then so many more products and gluten free alternatives have become available in stores such as Tesco, Sainsburys, Waitrose, Asda & Holland & Barrett.
I have tried and tested quite a few products to find out what tastes best but I am yet to try some of the below alternatives.
Chunks of tender Chicken and Bacon in a rich gravy sauce ....mmmmm
http://www.glutenfreefood.info/index.php?page=shop.product_details&category_id=31&flypage=flypage.tpl&product_id=120&option=com_virtuemart&Itemid=134&vmcchk=1&Itemid=134
Square Pie - the squarest pies in the land -
Home About Us Our Pies History Where to Buy Nutritional Our Favourites Jobs Events Register Contact Us
Ham and mushroom filling inside the little round
Ham and mushroom filling inside the little round pie. We ate it shortly afterwards, and it was very hard not to eat the big oval pies too.
https://www.facebook.com/photo.php?fbid=180105518689765&set=a.180104555356528.40453.151190574914593&type=3&theater
To try making your own gluten free pie try this recipe from BBCGoodFood!
Chicken & leek pie recipe - Recipes - BBC Good Food
A hearty gluten- and wheat-free pie to warm up those winter evenings Ready in 1¾ hours Mix the flour, a pinch of salt and the butter in a bowl, then stir in the cheese. Blend 2 tbsp cold water with
http://www.bbcgoodfood.com/recipes/1453/chicken-and-leek-pie