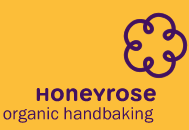 Available at Wholefoods, Sainsburys, Harrods & Waitrose, among others, I discovered the HoneyRose Free From Cakes a few years ago after being diagnosed with Coeliac Disease.
Quite often I had tasted quite grainy, dry and pretty tasteless gluten free alternatives but I have to say after trying quite a few bits and pieces within the range these are tasty treats indeed!
I quite recently received some gluten free treats including:
-Lime & Coconut Macaroons
-Walnut Brownies
-Triple Chocolate cookies
-Banana cake
We taste good, we do good.